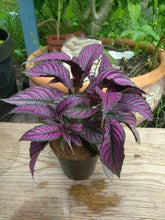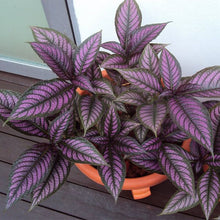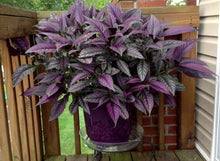 Strobilanthes dyeriana - Ornamental Plants
Be the first to review this product Review Now
MRP Rs. 980
( / )
23% off
Inclusive of all taxes and shipping
Genuine Variety Plants with Fertilised Soil & Pot
Secure Plant Packing to Sustain During Transit
Live Chat Support & 7Days Easy Return Policy
Plantcare Expert Support for Your Plant Growth
Get it between Oct 08 - Oct 11




Strobilanthes dyeriana also known as persian shield or royal purple plant is a species of flowering plant in the acanthus family Acanthaceae. Growing to 1 m tall and broad, it is a tropical evergreen shrub, cultivated for its dark green foliage with bright, metallic-purple stripes radiating outward from the central leaf vein. In proper conditions, it will also produce pale purple flowers. It prefers a warm, humid position in good light.  As the colour fade with age, it requires regular pruning in order to have new leaves growth.
Order today:
To receive your package between and
Frequently Asked Questions
Outdoor plants are those plants which grow in direct sunlight, they can be avenue & flowering trees, Palms, Cactus & Succulents, & Ornamental plants also.
In general outdoor plants prefer to grow under direct sunlight, so minimum 5-6hours of direct sunlight is essential for these collections.
Two important things are full sunlight & proper space to grow them because some plants need large space to grow.
Yes, if you are planting too close to the wall, it can damage your wall. Make sure that it is planted 3-4 meter away from the wall, exceptions for Palms & ornamental plants.
I received the Strobilanthes dyeriana plant with all leaves drooping and withered, and damaged because of the packaging.
now ten days later, the plant has lost all its leaves and appears too dry. I have been seeing to it that it is always moist and also keeping it in sun and shade alternately to find out its best position. Do let me know what to do