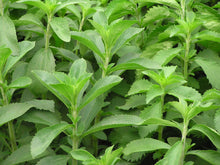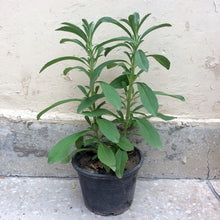 Stevia/Natural Sweetener - Herbs & Kitchen Plants
Be the first to review this product Review Now
MRP Rs. 1,010
( / )
23% off
Inclusive of all taxes and shipping
Genuine Variety Plants with Fertilised Soil & Pot
Secure Plant Packing to Sustain During Transit
Live Chat Support & 7Days Easy Return Policy
Plantcare Expert Support for Your Plant Growth
Get it between Oct 02 - Oct 05




Stevia is Botanically known as Stevia rebaudiana, It is a natural sweetener and sugar substitute (steviol glycosides) derived from the leaves of the plant. It is approximately 30 to 150 times sweeter than sugar. The human body does not metabolize the glycosides in stevia, so it contains zero calories, like artificial sweeteners. Stevia's taste has a slower onset and longer duration than that of sugar.

The legal status of stevia as a food additive or dietary supplement varies from country to country. The leaves have been used traditionally for hundreds of years in both Brazil and Paraguay to sweeten local teas and medicines, and as a "sweet Read More
Order today:
To receive your package between and
Frequently Asked Questions
Every plant has different plant parts to use as a medicinal plant it may be in its leaves, roots, stems, flowers or other parts of the plant. For full details look at the descriptions of individual plants.
Citronella grass, Lemon grass, Rosemary, Marigold, Mint Tulasi etc
Some plants need indirect bright light & others need direct bright light and some can grow in both direct and indirect sunlight. So please look at the description of each individual plants.
The soil should be well drained, fertile and rich in organic content. A mixture of garden soil, cocopeat, compost will give the best results for your plants.
Remember overwater can kill your plant(make sure that your pot should have drainage hole). Water when the topsoil(2-3 inch) feels dry to touch. In general moderate watering(in every 3-4 days)
Regular pruning of diseased and damaged parts of the plants. Regular watering, proper ventilation & sunlight, organic manure & fertilizers application.
In general you can grrow in indirect bright light conditions like basil, rosemary, mint, Centella asiatica, Maghai paan / betel leaf.
Tulsi has been used for thousands of years in Ayurveda for its diverse healing properties apart from devotional purpose.
No, both are different plants, Tulsi which is commonly known as holy basil, where as mint tulsi is closely related to holy basil & doesn't have devotional property.
Stevia is a sugar substitute made from the leaves of the stevia plant. It's about 100 to 300 times sweeter than table sugar, but it has no carbohydrates, calories, or artificial ingredients.
Costus igneus, commonly known as insulin plant in India. Consumption of the leaves are believed to lower blood glucose levels, and diabetics.
Best place for plant lovers.. it was packed with lot of care.. loved it
Thank you exotic flora