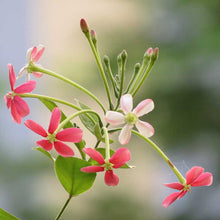 Rangoon Creeper Hybrid - Creepers & Climbers
Be the first to review this product Review Now
MRP Rs. 930
( / )
23% off
Inclusive of all taxes and shipping
Genuine Variety Plants with Fertilised Soil & Pot
Secure Plant Packing to Sustain During Transit
Live Chat Support & 7Days Easy Return Policy
Plantcare Expert Support for Your Plant Growth
Get it between Oct 02 - Oct 05




Rangoon creeper Botanically known as Combretum indicum from Combretaceae family. Common name are Rangoon creeper, Burma creeper, Chinese honeysuckle, Madhu Malati, Rangunachavel, Rangoon-ki-bel, Lal Malti,  Irangunmalati, Radha manoharam etc. It is a perennial evergreen flowering vine & it requires trelling or chain like fencing for growing over it.  It can be grown in big pots/containers and it is a single petal with fragrant flowers. It is fast growing & petals and leaves are big when compared to normal rangoon creeper.

A beautiful tropical climber. Its mild fragrance and ease of growing make it popular & also planted near temples - Read More
Order today:
To receive your package between and
Frequently Asked Questions
It grows horizontally. Creepers are plants with stems that grow along the ground, around another plant / on a wall by means of extending stems or branches.
It grows vertically. Climbers are plants with a tender stem that grow with the help of external support. They climb over the other by twine or hook from their leaves & stems.
It depends on the plant varieties and the available space for spreading. In General, a creeper can spread up to 15 meters.
Perennial creepers/climbers are plants that live or grow for a long time (more than a year)
List of plants that can also grow in Indirect bright light is All money plants, Pink wall creeper, All thunbergia, Ipomoea cairica & Ipomoea black, Hari Champa, Cissus nodosa, Mandevilla, and Trachelospermum jasminoides.
Minimum 3 years needed for a creeper plants to cover 5-10 meter of walls. But it also depends on the Plant care and plant variety.
It is always good to read both together, Creepers grow horizontally, it creeps on the ground whereas Climbers grow vertically by external support by their twine, tendrils, and other supportive structure.
Minimum 4-6hours of direct bright light are necessary for flower plants to produce flowers. The soil should be well-drained, fertile, and organic in nature, the sandy-loam soil is the best soil for flowering plants.
The best Fertilizers are Organic fertilizers & Organic compost, manure to apply to your flowers. Remember Phosphorus based fertilizers are best to produce more flowers. Look at the descriptions of each plant for plant care guidelines.
There are some creepers like Curtain creeper, Elephant creeper, Dolichandra unguis cati, Thunbergia, Passion flower, Wall creeper, Ipomoea etc, are very suitable for making privacy or providing like structure for shade purpose.
Rangoon Creeper Hybrid - Creepers & Climbers
Almost dead plant and delayed delivery
The plant was delivered with mostly dead leaves and the delivery was very delayed. An inexperienced gardener will not be able to revive such a plant. I wrote to the customer care email address but it bounced. What kind of serious business uses a free gmail email account.