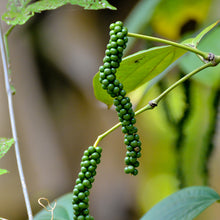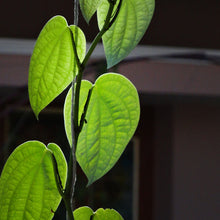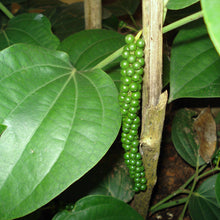 Pepper Climber - Spice Plants
Be the first to review this product Review Now
MRP Rs. 1,025
( / )
23% off
Inclusive of all taxes and shipping
Genuine Variety Plants with Fertilised Soil & Pot
Secure Plant Packing to Sustain During Transit
Live Chat Support & 7Days Easy Return Policy
Plantcare Expert Support for Your Plant Growth
Get it between Dec 17 - Dec 20




Black pepper is botanically known as Piper nigrum from the Piperaceae family. It is a perennial vine grown for its berries extensively used as a spice and in medicine. Black pepper is cultivated to a large extent in Kerala, Karnataka, and Tamil Nadu and to a limited extent in Maharashtra, Northeastern states, and Andaman & Nicobar Islands. 

GROWING TIPS - Black pepper is a plant of humid tropics requiring high rainfall and humidity.
You can grow it in a pot or directly in the soil in case of large plantation planning. 
The crop tolerates temperatures between Read More
Order today:
To receive your package between and
Frequently Asked Questions
Outdoor plants are those plants which grow in direct sunlight, they can be avenue & flowering trees, Palms, Cactus & Succulents, & Ornamental plants also.
In general outdoor plants prefer to grow under direct sunlight, so minimum 5-6hours of direct sunlight is essential for these collections.
Two important things are full sunlight & proper space to grow them because some plants need large space to grow.
Yes, if you are planting too close to the wall, it can damage your wall. Make sure that it is planted 3-4 meter away from the wall, exceptions for Palms & ornamental plants.
plant
best packaging for any plant and plants are healthy
Pepper climber was replaced but again it was as it is shown in the picture both the times it came with 2 -3leaves which wilted and fell ispite of watering as instructed its disappointing.
Good packaging healthy plants with fruit
Good packaging healthy plants with fruit