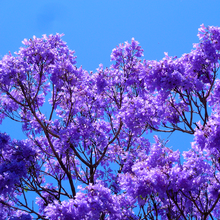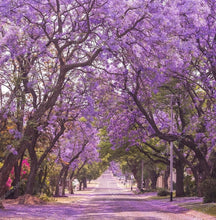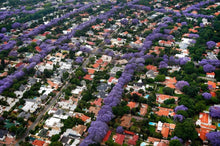 Jacaranda mimosifolia / Neel Mohar - Avenue Trees
Be the first to review this product Review Now
MRP Rs. 1,045
( / )
23% off
Inclusive of all taxes and shipping
Genuine Variety Plants with Fertilised Soil & Pot
Secure Plant Packing to Sustain During Transit
Live Chat Support & 7Days Easy Return Policy
Plantcare Expert Support for Your Plant Growth
Get it between Dec 19 - Dec 22




About the Plant - 

Jacaranda also known as Brazilian rosewood, blue jacaranda, blue trumpet tree, is a tropical beauty with its clusters of fragrant, purple, trumpet-shaped blooms.
This tree is grown as an ornamental to beautify avenues, parks.
It makes an excellent shade or street tree.

The flowers appear in spring and early summer and last for up to two months.

They are followed by woody seed pods, which contain numerous flat, winged seeds.
Growing Tips - 
It loves to grow in full sunlight areas.
Prefers moderate climate with Read More
Order today:
To receive your package between and
Frequently Asked Questions
Outdoor plants are those plants which grow in direct sunlight, they can be avenue & flowering trees, Palms, Cactus & Succulents, & Ornamental plants also.
In general outdoor plants prefer to grow under direct sunlight, so minimum 5-6hours of direct sunlight is essential for these collections.
Two important things are full sunlight & proper space to grow them because some plants need large space to grow.
Yes, if you are planting too close to the wall, it can damage your wall. Make sure that it is planted 3-4 meter away from the wall, exceptions for Palms & ornamental plants.
A Bit Sad
My Jacaranda plant arrived in this condition (see pic). Not looking happy. It is a bit better since planting into a proper pot. Hopefully it goes on to become a big strong tree. Fingers crossed. 🤞🏽
Awesome
Ordered Neel Mohar for my street. It was greatly packed, shipped and delivered with the best quality. Plant also started growing with the help of guide provided with the package. Overall well satisfied with the service and product. Keep it up!
Had an alive and decent plant
Not a full grown plant, but it was alive and green when I received it.
Nice
Waiting for them to grow back