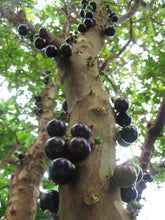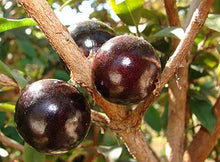 Jabuticaba - Fruits Plant & Tree
Be the first to review this product Review Now
MRP Rs. 1,665
( / )
23% off
Inclusive of all taxes and shipping
Genuine Variety Plants with Fertilised Soil & Pot
Secure Plant Packing to Sustain During Transit
Live Chat Support & 7Days Easy Return Policy
Plant care Expert Support for Your Plant Growth
Get it between Dec 09 - Dec 12




Jabuticba botanically known as Plinia cauliflora from the Myrtaceae family. The tree is a slow-growing evergreen that can reach a height of 15 meters small size. When immature make jabuticabeiras popular as bonsai.. The tree prefers moist, rich, lightly acidic soil.
It satisfactorily grown even on alkaline and red sand type soils. The tree has a compact, fibrous root system, that makes it suitable for growing in pots.
The purplish-black, white-pulped fruit grows directly on the trunk of the tree.
Jabuticabeiras are fairly adaptable to various kinds of growing conditions, tolerating sand or rich topsoil. They are intolerant of salty soils or Read More
Order today:
To receive your package between and
Very well plant
Received in excellent condition and packaging was awesome. They are far better than plant bazaar. Only thing is time they took is so long for sending the stuff.