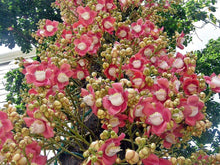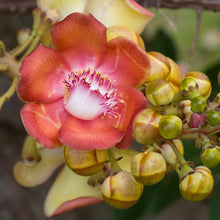 Cannonball / Kailash Pati - Avenue Trees
Be the first to review this product Review Now
MRP Rs. 1,065
( / )
23% off
Inclusive of all taxes and shipping
Genuine Variety Plants with Fertilised Soil & Pot
Secure Plant Packing to Sustain During Transit
Live Chat Support & 7Days Easy Return Policy
Plantcare Expert Support for Your Plant Growth
Get it between Dec 19 - Dec 22




About the Plants - 
Botanically known as the Couroupita guianensis, it is well known with many common names like 

Cannonball Tree / Naga Champa / Naga lingam / 

Shivalingam, etc.,

It is mainly cultivated for its beautiful, fragrant flowers and large, interesting fruits which are brownish-grey in color.
It blooms and bears fruit simultaneously.
The exotic red flowers smell like expensive perfume and the flowers are the symbol of wealth.
This tree has cultural and religious significance in India and flowers are used for Shiva Pooja. 
One tree can hold as many as 1000 flowers Read More
Order today:
To receive your package between and
Frequently Asked Questions
Outdoor plants are those plants which grow in direct sunlight, they can be avenue & flowering trees, Palms, Cactus & Succulents, & Ornamental plants also.
In general outdoor plants prefer to grow under direct sunlight, so minimum 5-6hours of direct sunlight is essential for these collections.
Two important things are full sunlight & proper space to grow them because some plants need large space to grow.
Yes, if you are planting too close to the wall, it can damage your wall. Make sure that it is planted 3-4 meter away from the wall, exceptions for Palms & ornamental plants.
On time delivery
My order was delivered on time. I ordered Kailash Pati & Soan Champa. 1-2 leaves dried but overall healthy plant. -Karthikeya, Tamil Nadu
Good
Received the plant in good condition.
Plants were delivered in good condition! Will replant as soon as we have some rains ! Thank you!
Well conditions
Good Peking and well condition