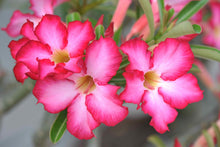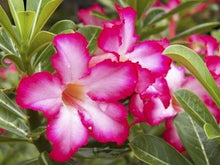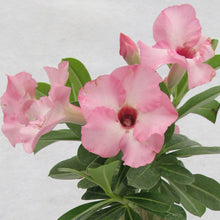 Adenium Baby Pink - Flowering Plants
Be the first to review this product Review Now
MRP Rs. 1,220
( / )
20% off
Inclusive of all taxes and shipping
Genuine Variety Plants with Fertilised Soil & Pot
Secure Plant Packing to Sustain During Transit
Live Chat Support & 7Days Easy Return Policy
Plantcare Expert Support for Your Plant Growth
Get it between Dec 17 - Dec 20




Adenium Botanically known as Adenium obesum from Apocynaceae family. Common name are Adenium, Desert rose, Bangkok kalanchuchi, Japanese frangipani etc. It is an evergreen/drought-deciduous succulent shrub,blooms year around. Adeniums are popular low maintenance house plant & appreciated for their colorful flowers and also for their unusual, thick stem & thick shiny leaves. They can be grown for many years in a pot and are commonly used for bonsai. It grow Best in Humid & warm climate.
What does make it Special?? 

The notion that 

Adenium

 obesum (

Desert Rose

) brings luck is very recent.

Read More
Order today:
To receive your package between and
Frequently Asked Questions
In General, all our flowering plants will start flowering within a year after the planting, and the majority of them you will receive with flowers.
Minimum 4-6 hours of direct bright light are necessary for flower plants to produce flowers. The soil should be well-drained, fertile, and organic in nature, the sandy-loam soil is the best soil for flowering plants.
The best Fertilizers are Organic fertilizers & Organic compost, manure to apply to your flowers. Remember Phosphorus based fertilizers are best to produce more flowers. Look at the descriptions of each plant for plant care guidelines.
Remember overwater can kill your plant(make sure that your pot should have drainage hole). Water when the topsoil(2-3 inch) feels dry to touch. In general moderate watering(in every 3-4 days)
You can grow all the flower plants on our Terrace or Balcony. You can also look at the collection of Flowering plants suitable for balcony in our collection sections.
There are many plants suitable for Devotional Purpose, the flower plants are All hibiscus, all roses, coral jasmine, all jasmine, all Tagar, all Nerium, Lotus, and any other flowering plants, Sacred trees like Bilva, Neem plant, wood apple, Saraca indica, Kadamba, Peepal, wood apple, kadamba, Saraca indica, Peepal, Banana, Mango etc.
There are many plants that bloom more than a season. There is a collection of year-round flowering plants in our website you can look at that collection in Flowering plants sections.
Different plants grow in different height, it totally depends on plant varities, it's location, you can find the details of each plant in the description.
Make sure that plants receive proper sunlight(3-4hours), regular watering & monthly organic compost or manure for early blooming.
The pot size is vary from plant to plant, always select 4-5 inche wider than your current pot.
In general, after 15-30 days you can transplant the plants.
Prepare the pit (1x1feet) pot slightly bigger than current pot, remove the plants from the existing pot, then place the plant in the pit or pot and then fill it with a mixture of garden soil, compost, cocopeat, perlite, vermiculite, finally water thoroughly to your plants.