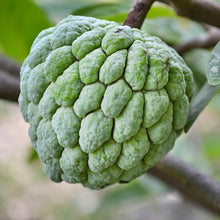 Custard Apple Balanagar (Grafted) - Fruit Plants & Tree
Be the first to review this product Review Now
MRP Rs. 970
( / )
23% off
Inclusive of all taxes and shipping
Genuine Variety Plants with Fertilised Soil & Pot
Secure Plant Packing to Sustain During Transit
Live Chat Support & 7Days Easy Return Policy
Plantcare Expert Support for Your Plant Growth
Get it between Dec 08 - Dec 11




Custard Apple Botanically known as Annona squamosa from Annonaceae family. Common name are Sitaphal, Sugar apple red, Sweetsop. It is a small many branched semi-evergreen tree. 
This Balanagar variety of custard apple is most adaptable variety and yielding of this variety is too high when compared to other custard apple. The fruit is medium size and green in color with sweet in taste. It can be planted in any corner of the garden and requires less water and does best in dry climates. 
This tree should only be planted outdoors in frost-free areas protected from cold winds. It is best Read More
Order today:
To receive your package between and
Frequently Asked Questions
Every, fruit plants vary in their fruiting time, depends on location, climate & age of the plants. Generally, Grafted fruit plants starts fruiting within 2 years of planting, where as non-grafted plants take more than 2 years. You can check the fruiting time of each plant in the plant description.
No, Majority of fruit plants are not delivered with fruits. But some grafted fruit plants can be delivered with fruits and flowers mostly Citrus, Guava, Star fruit, Fig, Ber etc. But it is recommended to remove the flowers during early days, so that plants can get more branches and physical strength.
Grafting is a technique where two plants part are combined together so that they can grow together. Most commonly seen in Mango. Air Layering is also a vegetative propagation technique where a plant is produced while it is still attached to its parent's plants. Commonly seen in Guava. Stem cutting is a vegetative propagation technique, where soft, semi-hard, or hardwood stem is cut with 2-3 nodes and used for the multiplication of plants. Commonly seen in flowering & ornamental plants.
Yes, the grafted fruit trees produce fruit earlier, than the non-grafted fruit plants.
These are some of the rare and new fruit plants and it's varities, which are not avialable everywhere in our country.
Remove the plant from its pot. Make sure to not disturb the root ball. Place the plant in a prepared pit(1x1ft) or slightly bigger pot than the current pot. Firm the soil around the plant with your hands. Water well till it drains out from the drainage hole.
In order to maintain the good shape of the plants, proper care should be taken from the beginning like the pruning of unwanted and diseased parts of plants, stalking to young plants, regular maintenance of plants.
In General, a grafted/air layered/hybrid fruit takes 2 years for fruiting, whereas seeded grown plants take 4-5 years of time for fruiting. But it may vary depending on the plant types.
In general if your soil weell drained, fertile and organic in nature, it will produce good quality fruit. Sandy-loamy is the most preferable soil used for fruit plants.
Size and taste of each fruit plants varies depending on the varieties. You can find more details about each fruit plants in terms of size and taste in the description of individual plants.
Initial first 2 years are very important to feed the plants with organic manure and fertilizers regularly. It is recommended to add organic manure or compost to each plant in every 3 months of time intervals. Do not go for Chemical fertilizers it will weaken the plants in future.
Plastic pots with drainage holes preferably work best as they are lighter to move around. Any other container which is light in weight with a drainage hole can also work to grow fruit plants.
Received in Good condition.
Need to wait & see if yield is plentiful as projected.
I guess you're glorifying it unnecessarily, market price are slashed half...