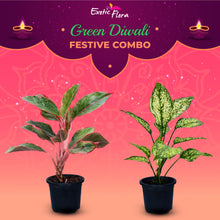 Diwali Festive Combo - Aglaonema Lipstick Plant & Aglaonema Snow White Plant
Be the first to review this product Review Now
MRP Rs. 1,970
( / )
10% off
Inclusive of all taxes and shipping
Get it between Dec 18 - Dec 21




In this Diwali Aglaonema Combo we have curated exceptional Aglaonema plants: the stunning Lipstick Plant and the enchanting Snow White Plant, creating a perfect pairing of grace and charm.
Product title:              Aglaonema Lipstick Plant
Product description: Aglaonema Lipstick is botanically known as Aglaonema Commutatum Red is from the Araceae family. It is an evergreen perennial indoor attractive ornamental plant with colourful leaves.
Product title:              Aglaonema Snow White Plant

Product description: Aglaonema Snow White Plant is one of the best indoor air purifying plants recommended by NASA. It is a Read More
Order today:
To receive your package between and