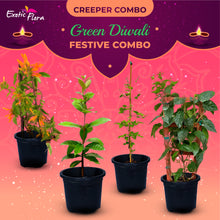 Diwali Creeper Combo - Flaming Trumpet, Petrea Volubilis, Bleeding Heart Vine, & Clematis Gourian
Be the first to review this product Review Now
MRP Rs. 3,130
( / )
10% off
Inclusive of all taxes and shipping
Get it between Dec 18 - Dec 21




This Diwali, elevate your celebrations with our extraordinary Creeper Combo, featuring a stunning quartet of Flaming Trumpet, Petrea Volubilis, Bleeding Heart Vine, and Clematis Gourian plants.
Product title:              Flaming Trumpet Creeper Plant
Product description: The flaming trumpet is botanically known as Pyrostegia Venusta. It is a perennial semi-evergreen flowering vine and requires trellis or chain-like fencing for growing over it. 
Product title:              Petrea Volubilis Creeper Plant
Product description: Petrea is botanically known as Petrea Volubilis from the Verbenaceae family. It is a perennial evergreen flowering vine and it requires trellis or Read More
Order today:
To receive your package between and